Join us for one of our free webinars!
Kepler College regularly offers free monthly webinars on astrological events, techniques, and the practice of astrology. You can browse our current webinars below. Click to register and get the Zoom link. If you would like to inquire about presenting a free webinar with us, please contact marketing@keplercollege.org.
We hope to see you in the Zoom room soon!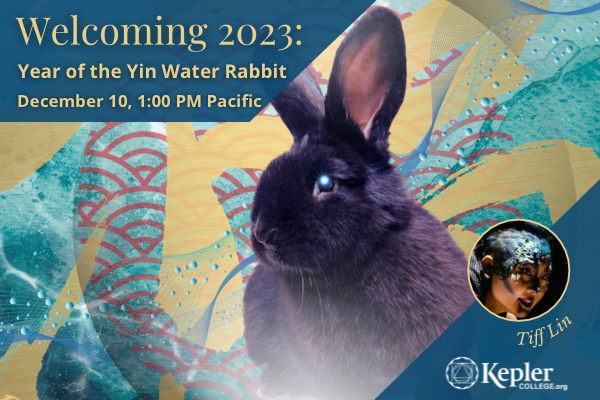 Let's welcome Lunar New Year on January 22, 2023! Are you curious about what lies ahead for 2023 according to your BaZi Chinese Astrology? 2022 was the Year of the Yang Water Tiger and brought in new growth, experimentation, and big disrupter energy. 2023 brings forth the Yin Water Rabbit, a respite from the chaotic frenzied energy and into one of allowance and gentle receptivity. Be sure not to be too complacent and nonchalant as this will block the creative flow from Rabbit's native element Wood. Come learn the energy forecast for this upcoming year ahead and how each of the Chinese zodiac animals may be influenced.
Register now »